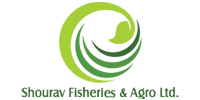 Shourav Fisheries and Agro Limited (SFAL)
SFAL is an agro farming company, producing hazard free agro food & products, dairies and fisheries.
Agriculture includes farming both animals (animal husbandry) and plants (agronomy, horticulture and forestry in part). Similarly, aquaculture covers the farming of both animals (including crustaceans, finfish and molluscs) and plants (including seaweeds and freshwater macrophytes). While agriculture is predominantly based on use of freshwater, aquaculture occurs in both inland (freshwater) and coastal (brackishwater, seawater) areas.
Shourav Group is engaged in various types of trading and manufacturing businesses in Bangladesh. Since the sole company Shourav Trading International Limited was registered in 1986, it has emphasized on providing services to the public sector electric utilities and industrial power system market in the country.
BTI Landmark, Level-6, CWS(A),
16 Gulshan Avenue,
Dhaka-1212, Bangladesh